Boston: Tofu-teas at Blue Dragon
One for the Table - Boston
Let's Eat by Kitty Kaufman, photos by Julie Moffatt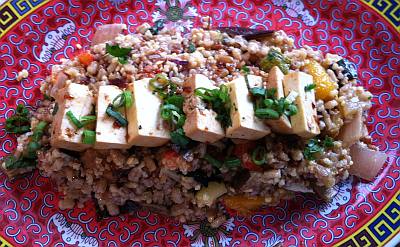 When Ming Tsai opens a new place it's news and Blue Dragon is news.
Esquire
lists
Blue Dragon
in its annual survey of best new restaurants. He's in the right place with the ongoing Boston Harbor redo, or vice versa, without being on Northern Avenue's tourist mecca. 'A' Street's off Summer and to find it we use GPS and one of us, ahem, was born here. There's street parking on industrial blocks polished with big windows, loading docks and ceiling beams that tell of old brick warehouses and lofts even as renovators rewrite Fort Point Channel.
Blue Dragon: They do things uncommonly well; for one, there's a mid-afternoon menu along with lunch and dinner. And there's a lunch-to-go menu which means they only pack things that travel well like salad and bánh mì. Sidewalks are narrow for tables so they open windows and it's summer-friendly with street life from our window seats. They call themselves a gastropub. I would never say that; it sounds like something to see the doctor about, but I will go along with: "Ming's East West twist to many pub favorites."
Julie orders gazpacho that's peppery thick with cucumbers, scallions and tomato. It's okay, it spills but everyone's cool. On to a happy drink sans spoon and mug: El Xamfrà cava with notes of pear and toast. This one wouldn't dare spill. It comes to us in glasses without stems. Since it's fizzy we don't get the presentation but maybe they know something we don't. Yes, I've smashed more than my share of stemmed glasses loading a commercial dish washer. Still, our fingers are leaving smudges and do we want wine in what looks like a juice glass?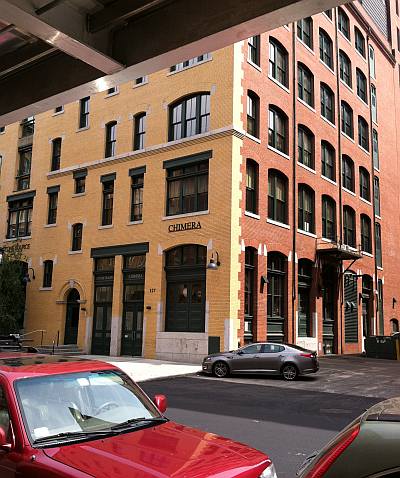 It's lunch so let's eat already. As it happens, the tofu-teas will never pass up tea marinated tofu and this one's paired with three-grain salad, roasted vegetables and sesame Dijon. Here's what we got: brown rice, zucchini, tahini, edamame, scallion, red and yellow peppers, onion, cilantro, mushrooms topped with silky tofu. Don't you think this works and tastes better than an apple a day?
The purist opts for warm teriyaki salmon plated on cha soba noodle salad. Salmon's finely grilled on wasabi vinaigrette-dressed noodles with everything: carrot, sesame, radish, edamame, red pepper, mushrooms and cabbage all so beautifully diced to make me weep. Whoever came in at 6 am to peel my vegetables, millions of thanks. If you're tempted to do take-out, and I was, know that it tastes infinitely better as the chef plates it for you here. I make my own vinaigrette but I never think to add wasabi . . . which is why it turns out I'm always FOH and Ming is BOH, except when he's on TV.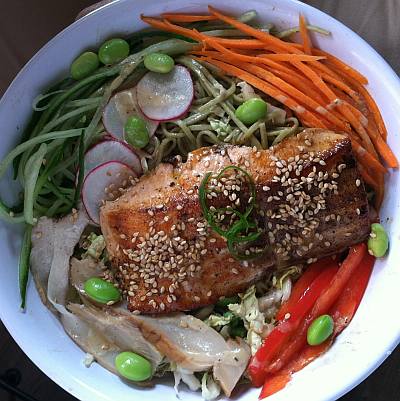 With Fort Point's breeze, food, drink and tunes we are starting to feel like we're on vacation. Summer in the city drags until a chic Monday lunch makes our day in spades. Now I don't want to leave and go back to work. More wine maybe? A BLT bánh mì with roasted tomatoes and arugula? Hold me back. Wait, wait, it's not over yet: there's dessert and it's a warm cookie. It's chocolate chip, big enough for two and it's the best two bucks you spend all week. After dinner, the warm cookie turns deep dish with ice cream and caramel sauce which could be reason enough to eat dessert first. We're all grown up so we will eat dinner and the cookie after. Actually, we're conflicted and not sure about any more cookies or dessert since more than some of it's sticking. So sad.
Chef owners are Ming and the collegiate Polly Tsai. See the ladies: it looks like a tiny wood-lined sauna. Dinner (with the likes of duck confit spring rolls, pork tails, beer-steamed mussels, roasted oysters, hamachi carpaccio, kimchee fried rice, garlic bok choy, panko fish 'n chips and Mom's salt and pepper shrimp ) runs from five until midnight and they close Sunday. Walk around after to see the district's renewal in action.
Blue Dragon
324 A Street (Fort Point Channel)
Boston, MA 02210
617. 338. 8585

© November 4, 2013 for One for the Table
Write to us:
Kitty@corp-edge.com
Share it on X Twitter:
Tweet
---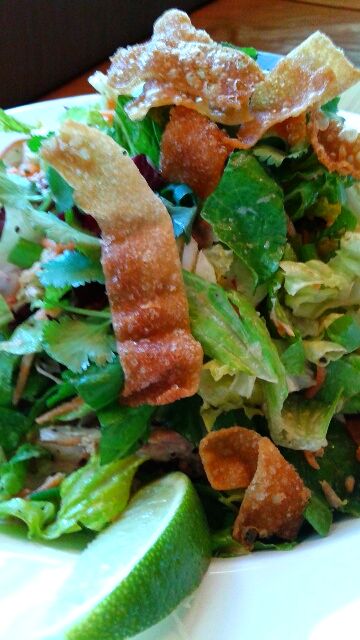 See Boston restaurant stories via One for the Table on Zomato
---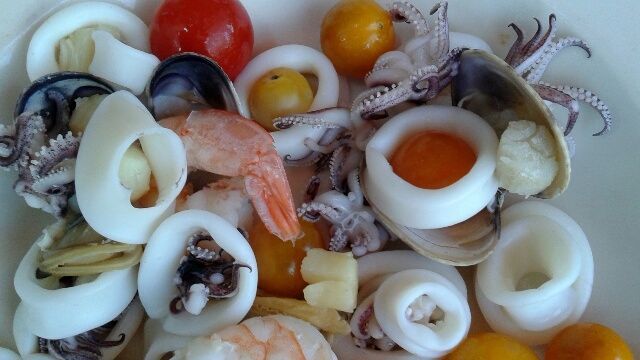 Locanda Del Lago in Santa Monica

Italian Western
---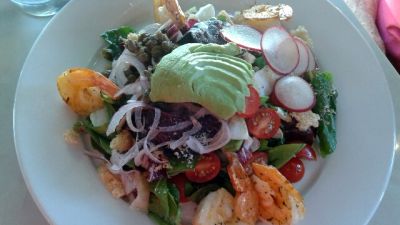 Santa Monica Seafood Cafe
Fine kettle of fish
---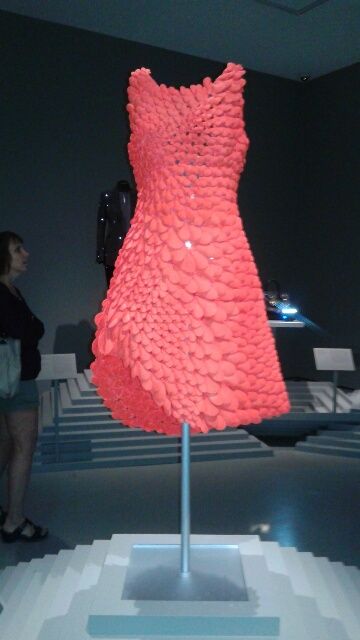 Boston Museum of Fine Arts
Food, and art
---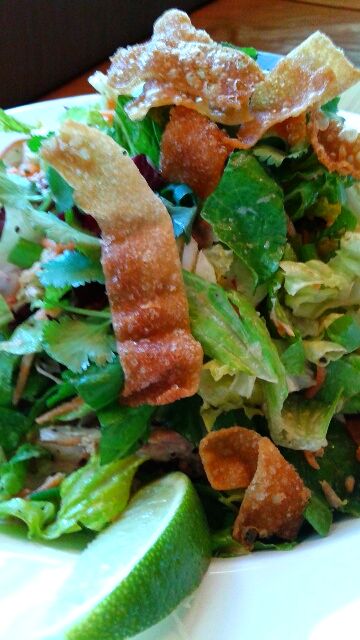 Ming's Blue Ginger Wellesley
Red hot and blue
---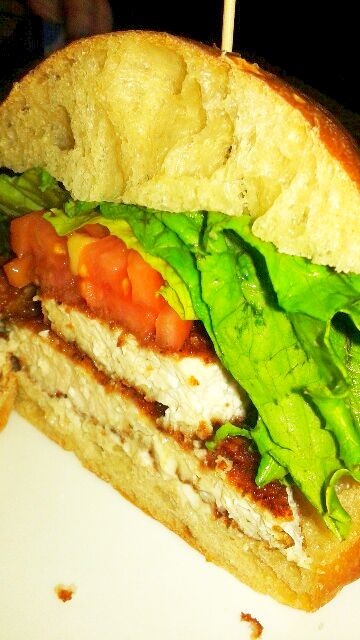 Deli after Dark Dedham
Yes, we have no meatballs
---
Sophia's Grotto
Meatballs and calamari in Roslindale
---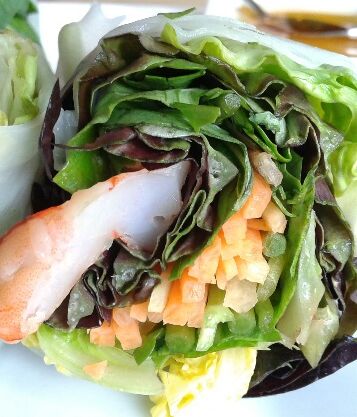 Pon Thai Bistro
Pon cooks with fire
---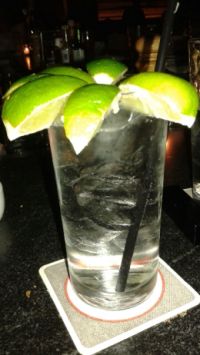 Island Creek Oyster Bar

Happy, happy new year
---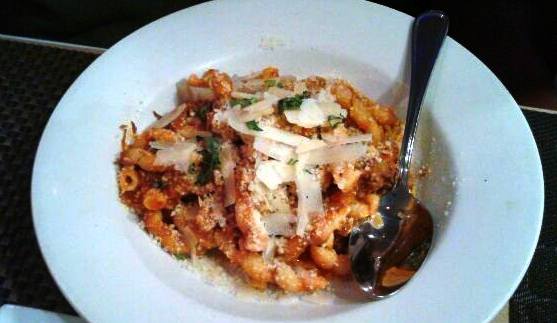 Amelia's Trattoria in Cambridge

New York state of mind
---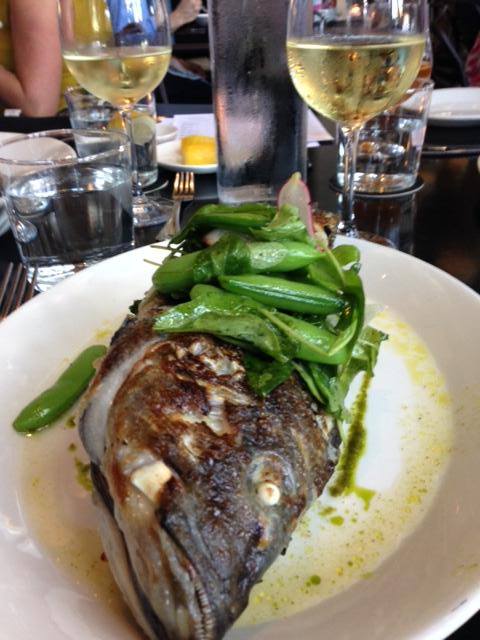 Cafe Sushi in Cambridge
Industry standard
---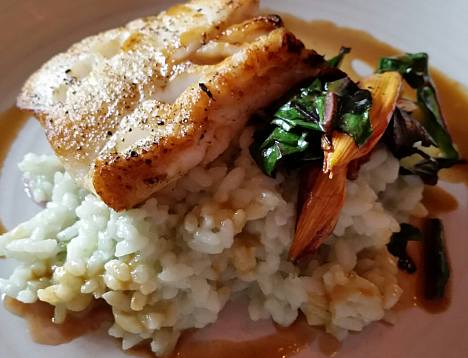 Black Trumpet in Portsmouth
Ta dah
---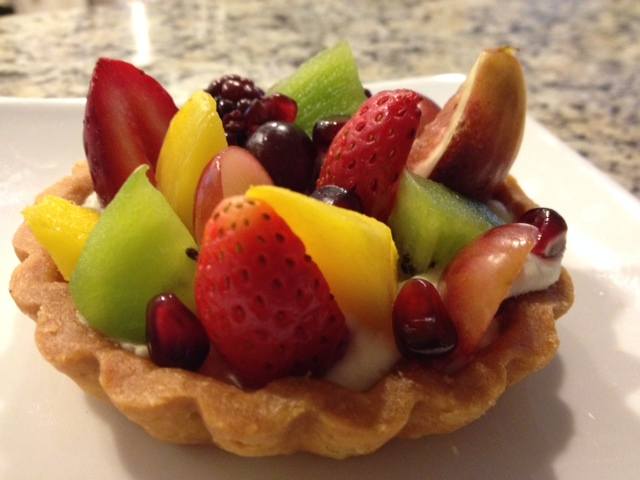 Flour Bakery
Eat dessert first